Top 5 Reasons why Whatsapp message reactions are useful to you!
On WhatsApp, users get many options to chat, using which you can chat well with your friends or any person, and now WhatsApp has made the chat experience of its users even better. The Whatsapp message reactions feature has been added in its new update, just like users could give their reaction to any message on Facebook. Now they can also provide it on WhatsApp earlier, this feature was not in WhatsApp, but now it is resent in WhatsApp. Additionally, what are WhatsApp message responses, and how to use them? Everything is in this article. Please keep reading.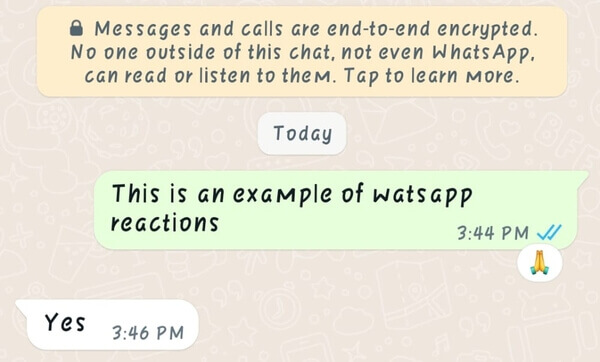 Many people like emojis, and they send more and more emojis during messaging, and emojis also make the message more excellent. Similarly, read the text when you use emojis with text in a statement. It is also good because it also has a feeling. On WhatsApp, users see many types of emojis, any of which can be used in the message.



What are Whatsapp message reactions?
As I mentioned, on Facebook, users get the option to react to the message, just like WhatsApp has added the feature of message reaction to its app so that you can send emojis. Although users already get the option to send emojis in WhatsApp, by using this feature, you can give an emoji reaction on sending a message, i.e., you can also react with emoji on your or your friend's message. As of now, users will get only 6 emojis in Whatsapp message reactions.
Top 6 tips to reduce your air conditioner bill this summer in 2022
For example, heart emoji, etc., sometimes you feel like reacting to a message, that is, if you like the message sent by someone, you can give a like reaction on it, similarly, if someone has sent you a like. Have sent a funny note. If so, you can send a laughing emoji over it, letting users react to a pre-existing message in Facebook Messenger. There's also an option to change the color of the chat.
What are the Whatsapp message reactions, and how we can use it?
You can use the Whatsapp message reactions feature of WhatsApp in single chat as well as in group chat, i.e., if someone sends a message in the group, you can give an emoji reaction to his message. It is also good to see you have That is, know the response provided on the message, along with that all the members of the group also see that emoji reaction when you use this feature in the WhatsApp group.
Easy ideas to increase phone battery life and backup time in 2022
Almost all messengers add new features to their app that users also like to chat in Messenger, so sending text messages, stickers, gifs, emoji, etc., are also available in many messengers. If there is any mistake while sending, you get a message, i.e., if you have typed the wrong text, you can use the delete feature of WhatsApp. Thus making it easier to chat.
How to use Whatsapp message reaction responses?
First and most importantly, you must upgrade WhatsApp Messenger on your phone, as the Whatsapp message reactions function is only present in the most recent update. Android users can install this Messenger through the Google Play Store, and iPhone users can install it from the App store. After this, you have to open WhatsApp.
If you want to react to the message of your friend or someone, then you can open his inbox or even open a group chat, then click and hold on to the message, you want to react with. If you click and hold on to that message, you will see some emojis; you can click on any of these emojis. Now you have successfully responded to the WhatsApp message with reactions. This feature is only available in the new update, so if you haven't updated Whatsapp, this feature won't show you.

How to change Whatsapp message reactions?
If you give an emoji reaction to a message, you can also change it; you can change it if you have sent the wrong emoji by mistake. Open WhatsApp on your mobile, then open the friend's inbox whose message response you want to change, then click and hold on to the message that has an emoji reaction. You can then click and select another emoji, which will change the responses to your message and appear on the message.
Gmail Tips and Tricks: Must know for every Gmail user
Conclusion
This very innovative idea came to form the Whatsapp team to get more and more engagement. Whatsapp message reactions are a great way to give emoji reactions to other people's messages and emojis reactions to your message. Only you and your friends' phones can see these. Although Whatsapp has already given many exciting features for chatting, still this is a new feature for users, and it works for more interactive sessions of chatting between two friends or in a group.