What is Apple Beta Profiles? Top Reasons why you should have it on Your iPhone in 2022?
Often iPhone users do not know that Apple also provides beta updates to the public, but for this, a small trick has to be done. After doing this trick, any iPhone user can enjoy a beta update.
For the sake of knowledge, let me tell you that beta update is the update which is not provided to the general public, but only a select few people who have Apple beta profile installed in their iPhone, they get these updates.
Now this question must be coming to your mind that what is this beta profile and how to install it on iPhone, right?
Never mind, I'm here, I'll do my best to answer all your questions here.
What is Apple Beta Profile and Does Apple charges for it?
Apple provides some beta profiles to its users, the most prominent being the Beta Developer Profile and the Beta Public Profile. The Beta Developer Profile is a paid profile that charges you a one-time $99 fee. But Beta Public Profile is not a paid feature.
What is Beta Developer Profile?
It is primarily designed for developers who have their applications published in the Apple App Store, and who have to update their applications from time to time according to the upcoming software changes. This is an important step so that their apps can work properly even in the upcoming software version.
By the way, you should also know that anyone can register for Apple Beta Developer for a fee of $99, not necessarily the developer.
What is Beta Public Profile?
You'll find the beta public profile by searching "apple beta profile download" on Google. Click on the first link found there. For your convenience, you can visit Apple's beta profile download page by clicking here. Now you have to go to that page and click on the Sign-in option and sign in with Apple ID.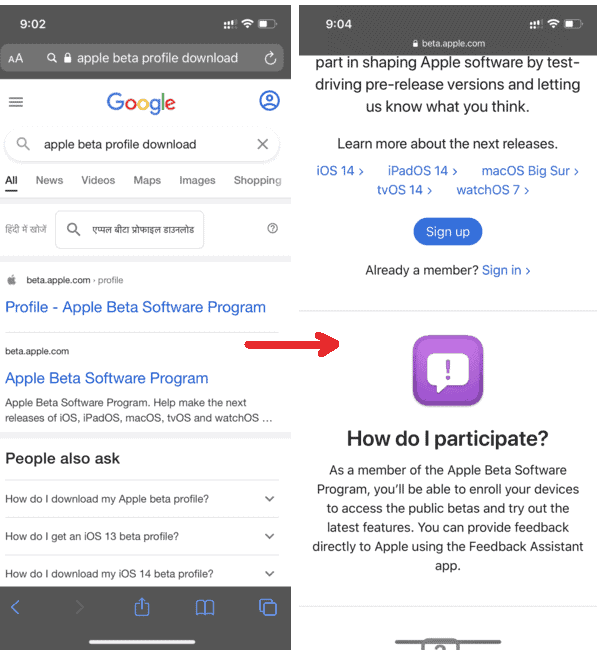 The next page will appear after signing, scrolling down that page a bit you will see the paragraph "Get Started" as you can see in the attached screenshot. A link to "Enroll Your iOS Device" is provided in the same paragraph. Read This Interesting Comparison.
You have to click on this link, after clicking, a new page will open, scrolling down a bit, you will see the heading of "Install Profile". Just below this heading, a button named "Download Profile" will appear, on clicking which a pop-up will appear. In this pop-up, you have to click on the allow option.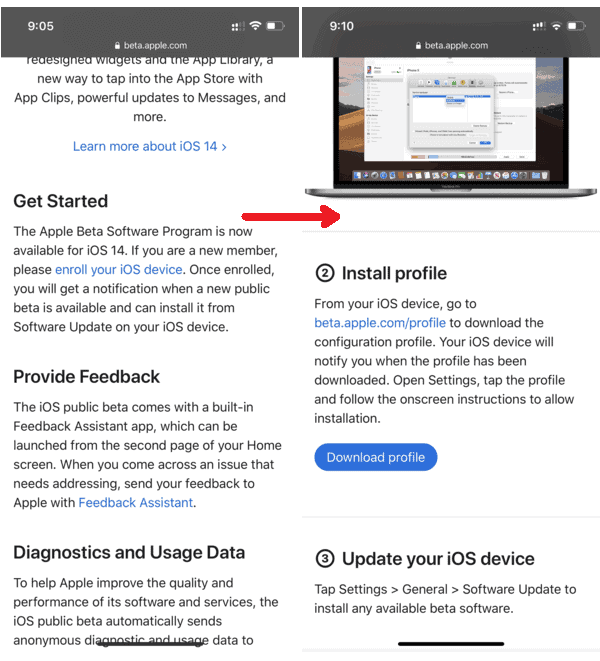 By doing this you will get confirmation that the profile has been downloaded. Also, it has been told that if you want to install this profile, you can review the profile by going to the Settings app and from there it can also be installed. You can take help from the accompanying screenshots.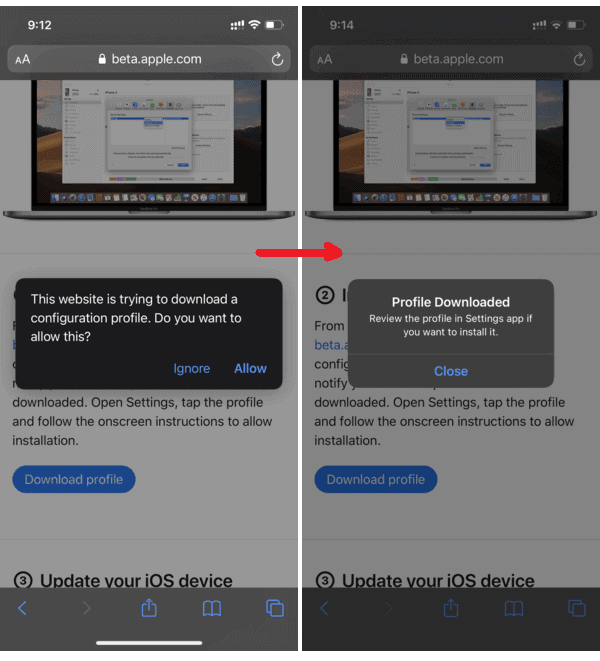 Once you open the Settings app, you will see the "Profile Downloaded" option, as you can see in the screenshot. You can install this profile by clicking on this option. Read everything about Apple iPhone 12.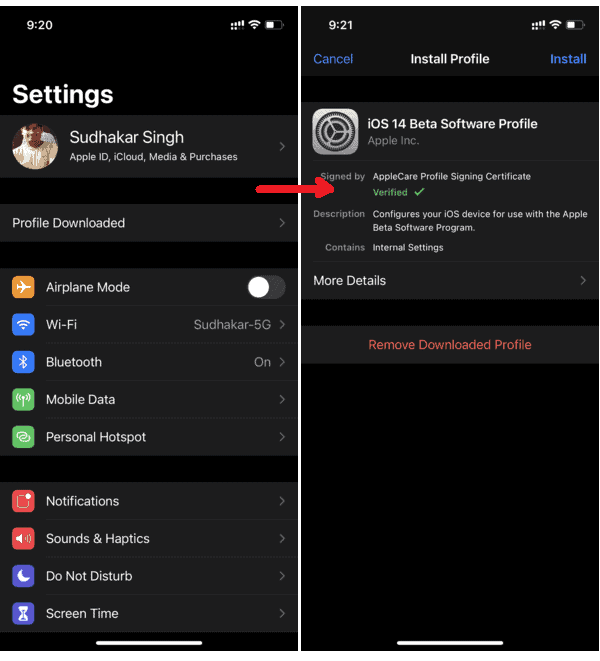 Congratulations, you have successfully installed Apple's beta software on your iPhone.
Benefits of downloading public Beta profiles
If you are curious and you want to experience every new software from Apple before the general public, then you must install the public beta profile. By downloading the beta profile, you can get beta updates before the stable update. Measure your internet speed here.
Disadvantages of Downloading Public Beta Profiles
As we already told you that by downloading the beta profile, you will get the update before the stable update of the OS that Apple provides for testing. This testing build may contain a variety of bugs and if you have entered the beta profile on your primary phone, then you may see these bugs in your day to day use of the phone. There could be a possibility that a major bug may have occurred and you may not be able to use your phone at all.
So you are advised not to install the beta profile on your primary phone.
A separate app called Feedback is provided for reporting bugs in beta software, by going to this app you can inform Apple about any existing bugs because you are a part of this beta testing program.
Hope you have come to know all the things about Apple Beta Profiles. If you have any doubts or queries then you can ask us in the comments section below.