Xiaomi Mi 10T Pro – Powerful Yet Budget Device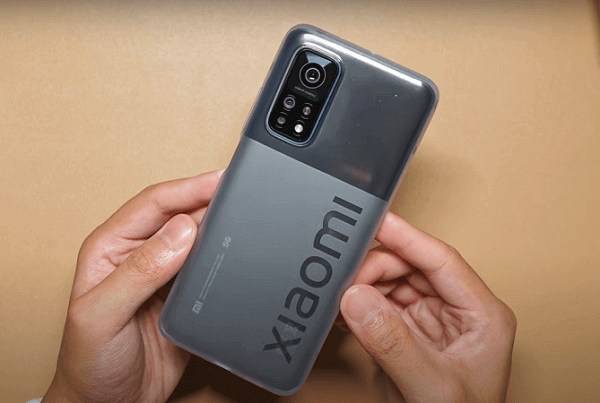 Including a couple of nice goodies in the box of Xiaomi Mi 10T Pro, the first thing that we noticed is this little dongle the adapter for a 3.5-millimeter headphone jack.
Interestingly Xiaomi wants to make it clear right off the bat there is no headphone jack on this device, instead here's your dongle.
The dongle was sitting within a nice soft clear case well semi-clear because the bottom half of the case has the Xiaomi branding on it which I actually really enjoy.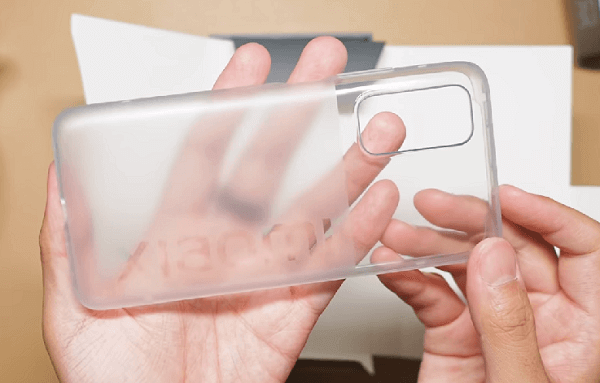 Key Specifications – Xiaomi Mi 10T Pro
This is a 5g model as is probably expected from any of the flagships these days, but one of the big things that you'll probably notice is that this has a 144-hertz display.
A side-mounted fingerprint sensor present which is super fast in our test cases. It's a full HD plus panel, it's what they call their true color dot display.
Aside from that, you have the snapdragon 865 so you have high performance on here. A 108-megapixel camera which must be some kind of unique.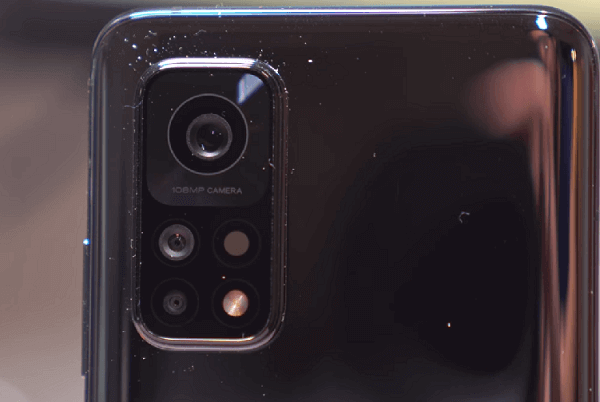 You have a 5000 mAH battery, and then underneath the phone are the usual things the USB cable and a fast charger. After all this large battery can be charged up with 33 watts wired fast charging.
I actually really like that the Xiaomi logo is here and this sort of frosted section of the soft case. Even though the Xiaomi logo still has a little bit of the branding still popping through it.
Actually, I got a little bit crazy, I had to spend some time doing some other stuff. As I was getting this phone set up with MIUI-12 which is what is powering this device.
If you're looking forward to my real-world camera test, This is just an overview of the phone. That may be cover on any of our next posts.
Now, to be fair a number of the modes that you might see in this camera app you probably have seen in other Xiaomi phones.
Anyways, let's talk a little bit about the design
There are a couple of things I want to draw parallels here.
The first thing I will say is not a direct comparison to that smartphone, I just feel like Xiaomi is sort of having their galaxy s20 ultra moment. The reason why I say that is because this phone is a little bit beefier than what I'm used to from Xiaomi devices.
Yes, they're going all-in on the camera with things like a 108-megapixel camera sensor on here, but the entire phone just has this sort of beefiness to it to accommodate these high specifications.
Of course, there are going to be other colors of this phone, and comes with gorilla glass 5 on the front and back to surround the aluminum alloy frame.
I suppose thankfully there is a curve on the back but no curve on the front leading to a flat display so that you can get that 144hz without having to worry about any curves messing up your touches.
Also Read: Top 5 things you should do with your phone 
let's talk about that display – Xiaomi Mi 10T Pro
The first thing I did was move over to a full-screen display experience meaning that I went to the gestures instead of having a navigation bar which was on at default.
After that, I made some of the display settings where I took a look at the refresh rates. What I found interesting here is that of course, you have the lower refresh rate at 60 but there's also a middle path here at 90 hertz.
90 Hertz is a fixed rate that allows for pretty much all of the interface to move at that slightly higher refresh rate but then the 144 hertz is something that's more adaptive and that is Xiaomi is calling this an adaptive sync display.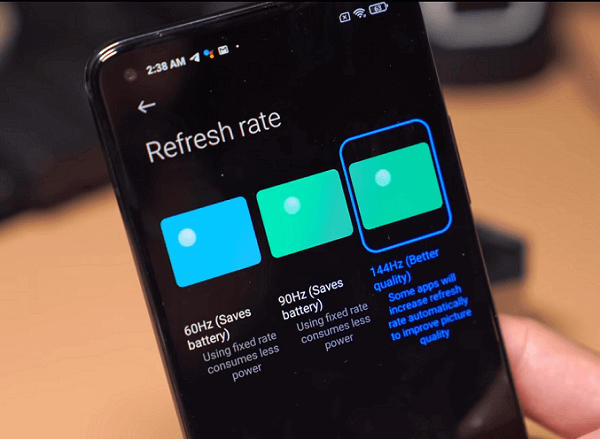 Either way, I'm all for it to be honest, and even though Xiaomi has championed a full-on screen display experience in the past with other phones.
The Xiaomi Mi 10T Pro instead has a little bit more bezel around it with a small cutout at the top corner. It doesn't take away from the experience whatsoever you still have plenty of screen and real taste here to enjoy things like games and media.
Moving Forward to Camera Setup
I'm looking forward to the experience of this front-facing camera as it is a 20-megapixel shooter.
It would be nice to see 4k on the front, more often but it's not something that we see as commonly as I would want obviously a lot of the more premium features are going to be in that back camera.
Now here's the first thing I wanted to point out about this camera hump, yes the top portion is this very large 108-megapixel sensor. This is not the first time that we've seen something like this, there are other phones that definitely prioritize the size of the main sensor.
But one thing that does feel a little bit like a first is that one of them, let's say holes here to give it a simple term literally does not have a module inside. You get two lenses aside from the main, one you have a 13-megapixel ultra-wide camera and a 5-megapixel macro camera.
Usually when you see a macro camera on another phone, you kind of scoff at it because you know that a 2 megapixels camera that's not going to add too much to the experience.
But at 5 megapixels we have seen one or two other shooters at 5 megapixels provide some nice macro shots. So I'm going to give it a nice little chance as I walk around with this phone during my rear wheel camera test.
According to the spec sheets, it's this fourth area here that would get that fourth lens. On the Xiaomi Mi 10T light on that one instead, you get a 64-megapixel main camera, an 8-megapixel ultra-wide, a 2-megapixel macro, and a two-megapixel depth sensor.
So this time around they didn't need the depth sensor for whatever reason so they just filled that portion in. In any case, there are a lot of little modes here that I'm looking forward to trying out.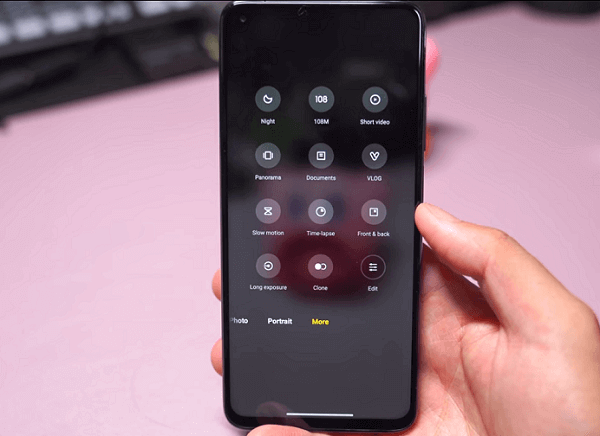 Now when you look at the photo modes there are some interesting additions like a clone mode where potentially you'll be able to put two of yourself into one particular shot.
There are also many long exposure modes that Xiaomi is introducing here like the moving crowd shot where you just have one idle subject while the rest of the surroundings continue to be dynamic.
But then talking about video, the megapixel sensor does allow for an 8k video capture uh which is very prominent once you head over to the video mode that button is clear as day.
You have a couple of other modes that you might have noticed from other Xiaomi umbrella smartphones, like the clone mode which allows you to put two of yourself inside of one video.
In this mode the front and back which allows you to record using the front and back cameras at the same exact time kind of like hosting your own little vlog showing what's going on right in front of you.
Shiny glossy fingerprint prone backing aside it looks like the Xiaomi Mi 10T Pro is just going to add to Xiaomi's already extensive catalog of high-end high-ended smartphones.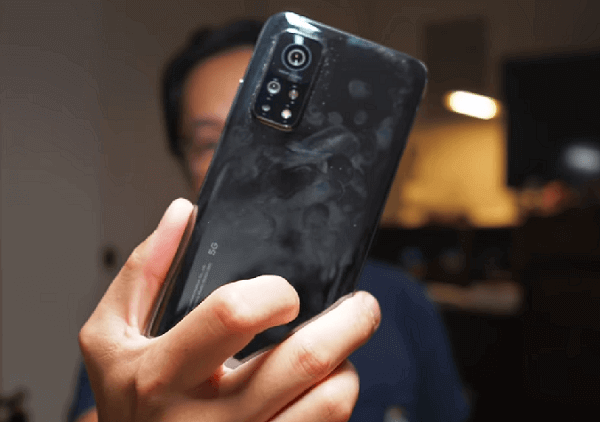 With specifications like snapdragon-865 with this screen that has 144 Hertz refresh rate something that you can enjoy in many games.And honestly many parts of the android interface here and of course the camera package which includes the 108-megapixel sensor, this is this a beefy phone absolutely.
In more, we're going to experience over the next number of days as to do my testing with real-world camera tests and then finally give you my thoughts on it.
For now, get into the comment sections down below let me know what you think about the Xiaomi Mi 10T Pro, what things you might want to know from it, and what things you want to see in action.